About Elizabeth Krohmer...
---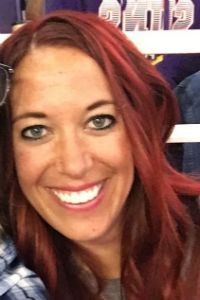 Home Site / Room Number: Casteel High/K Gym Girls' Locker Room
Phone: 480-424-8350
Subject(s): Physical Education
---
Parent and Student Connections:
Check ongoing assignments and grades by logging into BUZZ:
Check final grades by signing up for Infinite Campus:
Connect with Us!
---
Welcome!
Welcome to Chandler Online Academy! I am originally from Michigan, but am proud to call Arizona home. Some of my favorite things to do are spend time with friends and family, play and watch any/all sports, travel, and work out. I have a lifetime goal to be a contest on "Wheel of Fortune." I'm looking forward to a great year!
Educational Background:
I graduated from Hope College in Holland, Michigan with a Bachelor's degree in English and Kinesiology. I began teaching in Florida in 2010, where my district awarded me the First Year Teacher of the Year Award. I've been teaching in CUSD since 2011, first at Santan Junior High, and then I moved to Casteel for its inaugural year in 2015.
Educational Philosophy:
I believe every child is capable of learning, and it's my job to provide them with a safe, supportive environment in which to do so. Encouraging students to persevere and providing them with the tools and assistance to push themselves past what they believe they're capable of is important to me. I will help all students grow--academically, personally, and physically--throughout the year, and will instill in them the importance of becoming lifelong learners and living a healthy lifestyle.

---
Click to Report a Website Problem | Email Elizabeth Krohmer
---