About Brigette Burge...
---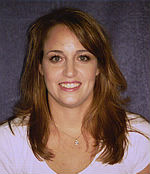 Home Site / Room Number: Basha High/F212
Phone: 520-815-7720
Subject(s): English and PE
---
Parent and Student Connections:
Check ongoing assignments and grades by logging into BUZZ:
Check final grades by signing up for Infinite Campus:
Connect with Us!
---
Welcome!
Welcome to Chandler Online Academy!
Educational Background:
Graduated in 1996 from Texas Wesleyan University, BS. Education (English & Physical Education All Levels), Graduated in 2001 from Arizona State University, M. Ed. Curriculum and Instruction National Board Certified Teacher in 2005 & 2015
Educational Philosophy:
All students can achieve when they put their minds to it!

---
Click to Report a Website Problem | Email Brigette Burge
---