There is no cost for Arizona residents between the ages of 12 and 22 to enroll in Chandler Online Academy as a full-time student.
Course Length

Full-time students at COA take
three
9-week
half-credit
courses at a time.
While students enrolled in Chandler Online
Academy have a great deal of flexibility around when they can log in to class, they must adhere to weekly attendance and progress requirements to continue to have the option to complete coursework from anywhere, to maintain enrollment in our school, and to earn credits toward graduation.
Requirements (Important, Read Carefully)
Attendance:
Full-time students are required to work on classes a minimum of
24 hours each week.
Attendance is reported by a parent/guardian no later than 11:00 p.m. every Sunday
.
Reporting attendance each week is a requirement to maintain enrollment in Chandler Online Academy as a full-time student. To submit attendance and find more information about attendance requirements, click here:
Attendance
. The 9-week course session begins when enrollment is complete and the student and parent have completed the Welcome Orientation.
Progress
:
All assignments/assessments should be submitted
on or before the day they are due
.
If a student misses a due date, he/she can submit the assignment/assessment, but the COA Late Work Policy will apply
.
REWARDS of Meeting Attendance
and Progress Requirements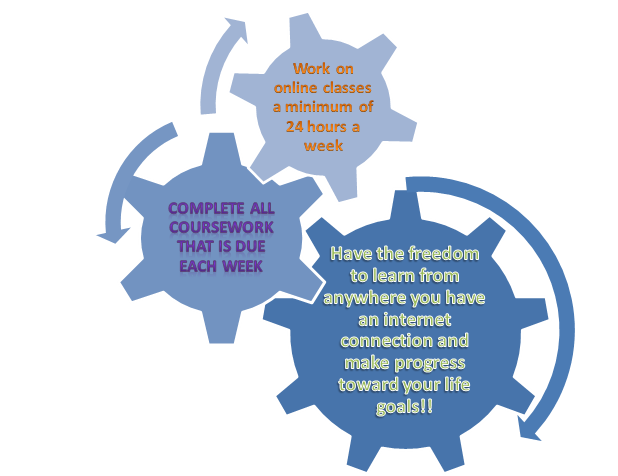 CONSEQUENCES of Not Meeting Attendance and Progress Requirements (Read VERY Carefully!)

Students who do not spend adequate time (at least 24 hours/week) working their online coursework will be contacted by COA attendance staff. Students will not be allowed to take the course final exam if they have more than 3 zeroes or a grade lower than a 60%. A student who fails to spend at least 24 hours a week working on online school work will be withdrawn from Chandler Online Academy.
Parent/Guardian Involvement & Attendance Responsibility
When a student commits to taking online courses with Chandler Online Academy, his/her parent/guardian is also committing to:
Monitoring your student's progress in her/his online classes using your Parent Portal*

Supporting and providing guidance to the student in managing his/her time
Reporting weekly attendance
Parents/Guardians of students in the Full-Time Program with Chandler Online Academy will be provided with a
Mentor Account.
The Mentor Account will allow the parent/guardian to monitor and support the student in completing online coursework. Access the
Mentor Account
.