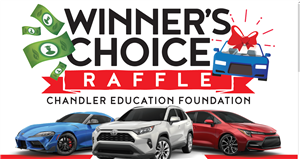 WINNER'S CHOICE RAFFLE
Please support the Chandler Education Foundation, CUSD and Hamilton High School by purchasing tickets to the 2022 Winner's Choice Car or Cash Raffle for a chance to win $27,000 towards the MSRP of a new 2022 Toyota vehicle or $20,000 in cash. Buy before February 1, 2022 to be entered into the Early Bird drawing for more prizes. Don't miss out!
Get your tickets now at CEF-Raffle.com or from the Hamilton High School front office.
Please open attached flyer from Chandler Education Foundation for more information