Jostens is no longer accepting phone orders. Cap & Gowns can be purchased at the Jostens Store at 21023 N. Cave Creek Road, Suite #1, Phoenix, AZ 85024.
***FINAL Book Return for Seniors:***
Tuesday, May 26th from 8:00am - 11:00am
To avoid delay in receiving diploma, ALL books must be turned in and fees paid by May 26th. More information to follow regarding diploma pick up.
Book Return will take place in the bus loop near the cafeteria patio. Students should remain in their cars. After the books are scanned in, students will each receive an HHS Class of 2020 Yard Sign to celebrate graduation!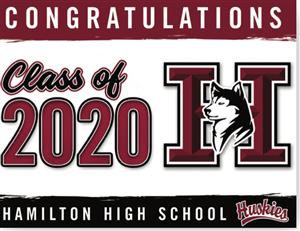 HHS Senior Parents, if you have not gone into Parent Portal to check off your students Academic 4 Year Plan, please do so as soon as possible. This is part of our Senior Check Off List for graduation requirements. We ask that you do this at your earliest convenience. If you have any questions, don't hesitate to reach out to your students counselor. Thank you!
Class of 2020
GRADUATION DATE: TBD
VENUE: TBD