Join us for CUSD Virtual Open Houses to be held on Oct. 25, Dec. 14 and Feb. 7. Find the best fit for YOUR child! Click for details.

With input from more than 100 stakeholders, CUSD identified six attributes essential to student success beyond graduation that our students will build as they move and grow through our schools and district. Click to find out more.

Tours are given after school on Thursdays at 3:00pm

Arizona law enables taxpayers a tax credit contribution of up to $200 or $400 per calendar year (depending on filing status) for contributions that fund extracurricular activities in public schools. A tax credit is a full refund, not a deduction! Click here for details.

Click here for information on 1:1 laptop distribution

Please click here for the Daily Announcements.

Click for where to find CCHS Counseling and College / Career Center on Social Media.

Please click here for this year's Bell Schedule.

Please click here for the Casteel High School Handbook.

Citizens in active service or military reserve plus one guest admitted free to any fine arts of regular season home athletic events at any CUSD high school.  Simply present military ID at the entrance.

Casteel has a lot to be proud of, including many state championships and top honors. Click to check out our BRAGS page.

Click to check out our new dynamic Casteel Athletics website! Junior high through high school sports are and will be featured on this site.

In order to provide our coaches and students the best possible environment, all tryouts and practices are closed to parents. We appreciate your understanding and cooperation.
Welcome to Casteel High!
About Casteel High School...

Chandler Unified School District's newest high school, Casteel High, is a public 7-12 comprehensive high school employing a strong integrated curriculum, with special emphasis in engineering, computer information systems technology, entrepreneurship, and product design. The school also has built a premier fine arts program with the construction of a state of the art Performing Arts center.

Casteel High School opened in the fall of 2015, and graduated its first class in the spring of 2019. The Casteel High School community believes in the unlimited potential of the human spirit and the extraordinary value of hard work. Its community challenges students in an interactive, collaborative environment that values individual differences while providing opportunities for all students to realize their potential.

-- Jayson Phillips, Principal
Featured Videos...
Camille Casteel High School (Serving 7-12)
Academic Vision for Dr. Camille Casteel High School
Sandy Lundberg Library Dedication, April 17, 2018
Chandler Unified - The Premier District of Choice
Chandler Unified - Watch Your Dreams Grow!
What's Happening Around Casteel
Upcoming Events
December 13, 2023

December 20, 2023

December 21, 2023

December 22, 2023

December 25, 2023

December 26, 2023

December 27, 2023

December 28, 2023

December 29, 2023
View Calendar
Casteel High Brags - Honors, Awards and Special Programs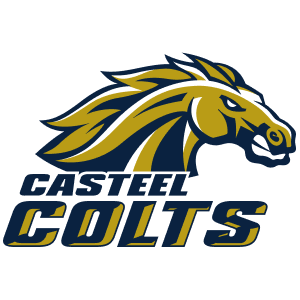 There are a LOT of great things going on in our school — honors, awards, community service projects, special programs we offer and accomplishments. Click below to spread the word, and to see the things we're doing!